Chiropractors in Oakleigh : What to Expect
Your First Visit to North Road Chiropractic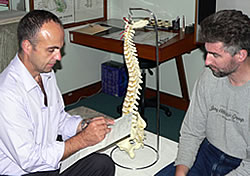 When you arrive to our clinic you will find parking on site. You will be met with a warm greeting by either Kaye or Sue at the front desk who will ask you to complete a case history form.
After you have filled in a comprehensive history form, you will meet with Oakleigh Chiropractor, Dr Sam who will take a history and discuss your health concerns. He will then perform a complete examination which includes physical, orthopaedic, chiropractic and postural analysis.
Examination
Computerized EMG (ElectroMyoGraphic) study of the spinal support muscles gives us information about the state of the spinal nerves as they relate to the spine its balance and its alignment.
X-rays of the spine (radiological examination) may be taken to determine whether you have pathology or fracture and, if you have any pre-existing structural faults of the spine which may lead to misalignments (vertebral subluxation complexes) of the spinal bones.
Please allow 45 minutes for your first appointment
At the end of your visit we recommend you make another appointment so we can present the results and recommendations to you.