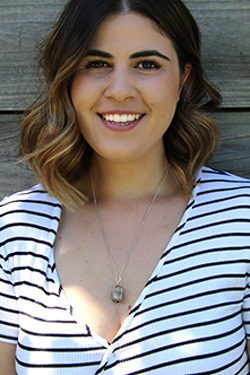 Dr Kathryn Liveriadis, daughter of Dr Sam Liveriadis, has had a lifelong passion for chiropractic, stemming from her own chiropractic care since birth. Dr Kathryn has recently graduated from RMIT University in 2017, completing a Bachelor in Health Science along with a Bachelor in Applied Science (Chiropractic).
As an avid attendee to numerous seminars throughout her time as a student, exploring the many techniques and principles that chiropractic has to offer has allowed for the broadening of her knowledge in chiropractic, beyond that taught at RMIT.
Throughout her time in clinical placement, she was selected to volunteer her time at the Assisi Age Care facility in Rosanna, caring for the residence and staff that reside there. This experience and opportunity is one of her most cherished whilst undertaking her degrees.
Dr Kathryn has always aspired to serve the community with chiropractic care, following in her father's footsteps. She has a passion and interest in chiropractic care for women and children and is continuing with further postgraduate studies in these areas. With a keen interest in natural and preventative health care she regularly reads and listens to books and podcasts and attends seminars exploring the many elements of health.
Dr Kathryn is very excited and feels privileged to be able to practice as a chiropractor, serving those within her community and beyond.