Back Pain Treatment
Back pain might seem a trivial health issue until it lasts for over 10 weeks and turns chronic. Nearly 3.7 million Australians suffered from low back pain in the year 2014-2015. In most cases, the suffering didn't seem to end since people were and still are clueless about the cause and the treatment.
While some prescription drugs and injections offer temporary relief from back pain, they are addictive and harmful in the long run. On the other hand, surgery is claimed to be an effective solution to chronic back pain, but it is dreaded by majority of patients for the simple reason that undergoing surgery requires long-term commitment and also bears a certain level of health risk.
At North Road Chiropractic, we provide personalised chiropractic treatment – which is safe and effective – to cure acute and chronic back pain so that you can easily manage your day- to-day activities and live an ache-free life. We have been serving our community since 1987.
Initially we qualify you as a patient and if we feel that we can help you go through a thorough assessment to reveal every aspect of your problem. Our aim is quick and efficient and safe therapy with maximum results in the shortest period of time. Our recommendations will address both the short term and long term/maintenance aspects of spinal health, giving you the option to decide, depending on your health goals. The improvement will be noticeable in terms of reduced soreness, stiffness, and inflammation in your neck and lower back area.
Reasons For Back Pain
Back pain can take years to develop gradually, but there are cases when it happens overnight, perhaps due to an injury or twisting of muscles. There are multiple factors that cause back pain, and one should understand that not all back-pains are treated alike. A different cause requires a different approach. That being said, the treatment for a back pain due to poor posture will be different from back injury treatment. Interestingly, our chiropractic treatments, too, work differently for different types of back-pain conditions.
Here are some of the most common reasons for back pain that can be successfully addressed with chiropractic therapy: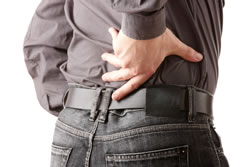 ● Poor posture
● Falls, auto accidents, and other traumatic events
● Pinched nerves (causing sciatica and pins and needles sensations)
● Disc herniation complicated by bone spurs, spinal degeneration, end plate junction failure or bulging discs
● Repetitive strain injuries
● Overuse injuries
● Degenarative changes of the spine
● Improper lifting and frequent lifting of heavy objects
● Muscle strains and tears
● Pregnancy
● Being obese as it puts excess strain on the back and knees
● Sitting or standing for long periods
● Fibromyalgia
● Scoliosis
● Multiple sclerosis and other neurologic autoimmune conditions
● Sleeping on a poor mattress
North Road Chiropractic has handled and treated even the most severe cases of back pain in Malvern. Moreover, our experts have been providing safe, effective chiropractic treatment for back pain in Ormond and adjoining areas since 1987, which is a plausible explanation to our unmatched credibility across Oakleigh and its surrounding suburbs. We stay open till 7.30 so we can service patients after work.
For any query you have regarding our chiropractic wellness services, feel free to call us at (03) 9579 2699.
References
ACA- What is chiropractic? American Chiropractic Association. http://www.acatoday.org/level2_css.cfm?T1ID=13&T2ID=61. Accessed October 10, 2013.
Balthazard P, et al. Manual therapy followed by specific active exercises versus a placebo followed by specific active exercises on the improvement of functional disability in patients with chronic non specific low back pain: a randomized controlled trial. BMC Musculoskeletal Disorders 2012; 13: 162. doi:10.1186/1471-2474-13-162.
Cifuentes M, Willetts J, Wasiak R. Health maintenance care in work-related low back pain and its association with disability recurrence. Journal of Occupational and Environmental Medicine 2011; 53(4): 396-404.
Low-back pain-acute- National Library of Medicine-PubMedHealth. http://www.ncbi.nlm.nih.gov/pubmedhealth/PMH0004668/. Accessed October 10, 2013.
McMorland G, Suter E, Casha S, du Plessis SJ, Hurlbert RJ. Manipulation or microdiskectomy for sciatica? A prospective randomized clinical study. Journal of Manipulative and Physiological Therapeutics. 2010; 33(8): 576-584.
Peterson, CK, et al. Symptomatic Magnetic Resonance Imaging-confirmed lumbar disk herniation patients: a comparative effectiveness prospective observational study of 2 age- and sex-matched cohorts treated with either high-velocity, low-amplitude spinal manipulative therapy or imaging-guided lumbar nerve root injections. Journal of Manipulative and Physiological Therapeutics 2013; doi: 10.1016/j.jmpt.2013.04.005.
Valfors B. Acute, Subacute and Chronic Low Back Pain: Clinical Symptoms, Absenteeism and Working Environment. Scan J Rehab Med Suppl 1985; 11: 1-98
von Heymann W, Schloemer P, et al. Spinal HVLA-manipulation in acute nonspecific LBP: A double blinded randomized controlled trial in comparison with diclofenac and placebo. Spine 2012; doi:10.1097/BRS.0b013e318275d09c.
Walker BF, et al. Low back pain in Australian adults: prevalence and associated disability. Journal of Manipulative and Physiological Therapeutics 2004: 27(4): 23.