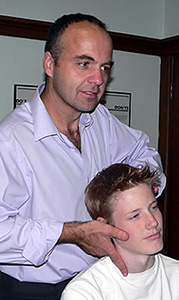 Helping thousands of people in their pursuit of better health since 1986
Being keenly interested in the human body and how it functions Dr Sam Liveriadis first completed a Bachelor of Science degree at Melbourne University majoring in Human Physiology. However it wasn't long before he decided that "I could not see myself mixing test tubes for the rest of my life. I wanted to be involved with people and be an active part of their pursuit of health restoration. Chiropractic was the logical choice."
Chiropractic Education
In 1986, after a further five and a half years of full-time study, Dr Sam graduated from the Royal Melbourne Institute of Technology, with a Bachelor of Applied Science in Chiropractic.
Even after more than 30 years experience helping thousands of people in their pursuit of better health Dr Sam still enjoys the miracles of chiropractic. "Here at our Oakleigh chiropractic practice I thoroughly enjoy helping patients restore and maintain their health with Chiropractic care and even after all of these years I love watching the miracles unfold," says Dr Sam.
The Chiropractor in Oakleigh Committed to Excellence
"Each year," continues Sam Liveriadis, "the staff and I attend various seminars to keep up with the latest in research and newest developments in the chiropractic profession. That keeps our skills in top form." As an invited speaker at chiropractic conferences his commitment to excellence has been acknowledge amongst his peers.
One of Dr Sam's areas of special interest is patients with chronic long standing conditions. He has also had extensive experience with work related injuries and is an approved provided under WorkCover, TAC and DVA.
On a personal note…
Dr Sam has been happily married to his wife Mary, a primary school teacher, since 1987. They met each other at university in the early 1980. They have two children; their son Matthew is 27 years old and a qualified Architect and their daughter Kathryn who is 23 years old has followed her father's footsteps and become a Chiropractor, currently working along side him at North Road Chiropractic.
Sam is a keen runner, running every morning for one hour (out by 7am every morning rain hail or storm, 7 days a week) clocking minimum 70km per week.
He also has a regular segment with Greek Radio 3XY every Wednesday, and also has a regular weekly health column at Greek newspaper, "TA NEA" (means… "the news"), informing older generation Greeks about health and Chiropractic.
"Chiropractic is more than simply my chosen profession. It is a part of who I am," says Sam Liveriadis of Oakleigh.
Give our Oakleigh chiropractic clinic a call so we can help you take your first step towards better health.