Tailbone Pain and Coccyx Dysfunction
Understanding your pain is the first step towards curing it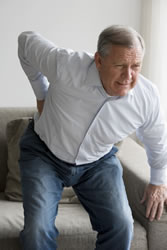 ​The ordeal of modern lifestyle has spared none. Spending more and more hours at a desk job or lying down on the bed and devoting little to no time to exercise has made majority of adult population susceptible to back pain conditions. However, not all back-pain conditions are developed gradually over the months of lazying around; some are caused by strenuous activities, hard slip-falls, sudden jerk and accidents, etc., resulting in serious conditions, likeTailbone pain and Coccyx Dysfunction.
Tailbone pain originates at the bottom of the spine. If ignored, the pain builds up and persists for an indefinite time and feels worse when you sit down or get up. A little extra pressure to the base of the spine can also aggravate the pain, which might continue to bother you for hours.
More women than men tend to develop Tailbone pain, especially during pregnancy and post-natal phase, making it difficult for them to handle everyday chores. This impedes their ability to sit for an extended duration and causes agitation in lower back when they get up.
Understanding Coccyx Anatomy
The coccyx is located at the bottom end of the spine, consisting of several small vertebrae fused together, with a limited room for movement between each of these bones. Movement of these bones beyond the extremes results in inflammation and coccyx pain.
North Road Chiropractic provides Tailbone/Coccyx pain treatment that reduces inflammation to give you instant relief. Undergoing regular treatment will further stabilize the coccyx joints to alleviate the underlying cause of the pain once and for all.
Rest assured that your treatment is in safe hands
Our chiropractors have decades of experience in providing safe, effective therapies for Tailbone Coccyx Pain in Oakleigh. Our clinic has been established in the same location since 1987. We combine our experience with a holistic approach to devise a regime that starts to show positive results within a couple of days. The regime includes conservative chiropractic manoeuvres, behavioural modifications and gentle stretching to subdue the pain as your treatment progresses.
We understand your pain like no one else, and therefore, we know the methods that should work best for you. You can book an appointment with our chiropractor for a thorough assessment. We will then give you our best recommendations, and you are free to choose what is best for your health goals.
Based on your condition, we will also provide you with at home tasks several to expedite the healing process.
Leave your pain here
Our clinic is based in Oakleigh, but as we stay open till 7.30 which makes an easy drive from Dandenong once the traffic has subsided . We may schedule an appointment most of the time on the same day you call or the day after .
Call us now or leave us a message today!