Carpal Tunnel Syndrome Treatment
What is Carpal Tunnel Syndrome?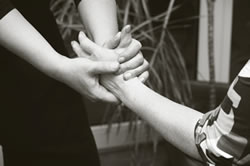 The carpal tunnel is a narrow space between the bones and fibrous tissues in the wrist. Typically these tissues play a protective role in the wrist, but if they become inflamed, irritated, or shifted out of their normal position, they may impinge the median nerve. This nerve runs from under the armpit down the arm, through the carpal tunnel into the thumb, palm of the hand, and index fingers.
Symptoms of Carpal Tunnel Syndrome
Pins and needles sensations in the arm
Arm pain, numbness, and weakness
Wrist pain
Itching sensation in palm of hand and fingers
Typically, pain is insidious (developing gradually over time)
Feeling like you need to "shake out" your wrists in the morning
Risks of Carpal Tunnel Syndrome:
Occupations that involve repetitive motions of the wrist such as typing or working in an assembly line
Women are three times more likely to have carpal tunnel syndrome
Dominant hand is typically the first to be affected
Metabolic diseases like diabetes that affect the body's nerves
Inflammatory conditions like rheumatoid arthritis
Conditions that cause fluid retention in the body such as obesity, thyroid disorders, kidney failure, menopause, and pregnancy
Oakleigh Treatment for Carpal Tunnel Syndrome
Standard medical care for carpal tunnel syndrome typically consists of wearing a wrist brace, taking medication, and sometimes surgery. These treatments do not always work for every patient however; almost a third of patients require revision surgery, meaning their first surgery for carpal tunnel syndrome failed to adequately address their symptoms.
Oakleigh chiropractor Dr Sam Liveriadis offers noninvasive treatment of carpal tunnel syndrome that can provide patients with relief without the use of surgery or drugs. Research show that chiropractic treatments can effectively ease symptoms of carpal tunnel syndrome, and we see the success of chiropractic every day in our Oakleigh clinic.
Dr Sam will use gentle soft tissue therapies, neck adjustments, postural analysis, and stretching to gradually relieve pressure on the irritated median nerve. He can also offer you sound advice on how to use posture and ergonomics to prevent wrist pain from work-related tasks.
Call North Road Chiropractic for relief from carpal tunnel syndrome in East Bentleigh, Oakleigh, Clayton, and Mt. Waverly, Melbourne.