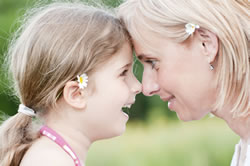 Researchers at the Pediatric Gastroenterology Unit at Mount Sinai Hospital in New York City found it interesting that parents kept mentioning they were taking their children with inflammatory bowel disease to the chiropractic profession for treatments. They decided to find out what were the types of complementary and alternative medicine that the parents were using.
The researchers sent out 235 surveys to parents who had been coming to the clinic. Eighty-four responded that they had used chiropractic care or other complementary and alternative practices for their children and about 20% (37) were currently using chiropractic treatments or other complementary and alternative medicine practices.. Some of the other treatments used included fish oil (48.8%), probiotics (22.5%), acupuncture/pressure (17.5%), aloe vera (16.3%), yoga/meditation (16.3%), and herbal medicine (13.8%). About 12% were using chiropractic or had used chiropractic.
The percent of parents who were extremely supportive or very supportive of chiropractic and other complementary and alternative medicine practices was 63%.
If you have a child with inflammatory bowel disease, consider the distinct advantage of offering chiropractic treatments to your child. The colon responds to chiropractic care because some of the spinal nerves innervate the large intestine. There's a clear nervous system influence on the digestive system, as many would agree that when they get upset, their digestive system functions differently. Receiving chiropractic adjustments has been found to aide digestion for some pediatric patients.
If you're child is suffering from chronic pain, call our office in Oakleigh, Melbourne for natural, lasting relief.
Reference
Alcantra, J and Mayer DM. The successful chiropractic care of pediatric patients with chronic constipation: A case series and selective review of the literature. Clinical Chiropractor 2008. 11 (3) 138-47.
Ceballos, C., Bao, R., Dunkin, D., Song, Y., Li, X.M., and Benkov, K. Complementary and alternative medicine use at a single pediatric inflammatory bowel disease center. Gastroenterol Nurs 2014 Jul-Aug; 37(4):265-71.