Effective And Convenient Chiropractic Services
North Road Chiropractic has been providing top-of-the-line chiropractic solutions since 1987. When you are in need of an experienced chiropractor in Bentleigh or Bentleigh East, look no further than us. Our chiropractic clinic is located in Oakleigh and our chiropractic services are available for people residing in the surrounding suburbs like Bentleigh and Bentleigh East. Our experienced chiropractorsuse state-of-the-art equipment and the latest diagnostic techniques available.
Relieve Pain With Our High-quality Chiropractic Services
For the best in chiropractic services, come to North Road Chiropractic in Oakleigh. For well delivered low force painless and very effective chiropractic adjustment procedures, we have got all your chiropractic needs covered. We will address your chronic or recent problems with utmost due care and attention by our friendly chiropractors.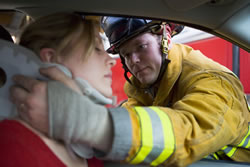 Chiropractic Care - Your Ideal Recovery Option For Auto Injuries
Very often following an auto injury, you might be start noticing headaches, neck pain, back pain or dizziness. Having dealt with a lot of motor accident injuries over the years since 1987, you have the best chances to recover with our care, a lot faster.
Common Symptoms Following a Motor Vehicle Injury
● Whiplash sprain/strain of neck and shoulder muscles
● Headaches and or dizziness
● Muscle spasm and tension
● Pain numbness and tingling radiating to the shoulder and arms
Visit Our Chiropractic Clinic Today
Your best chance to put an end to your chronic pain or treat your long-term problems with our safe and non-invasive chiropractic care from our very experienced Chiropractors. Feel free to call us at (03) 9579 2699 to schedule your appointment.