Enjoy a Healthy Lifestyle with Our Gentle Chiropractic Treatments
In need of an experienced chiropractor in Ashwood? Look no further than North Road Chiropractic. Our chiropractic clinic is located in Oakleigh since 1987, assuring you of the best in experience and knowledge, but our chiropractic services are also available for residents in the surrounding suburbs like Ashwood.

We Guarantee Your Satisfaction
At North Road Chiropractic, we might not guarantee the results but yes we definitely guarantee your complete satisfaction with our chiropractic services. In case within your first three office visits, you are not happy with our services, we are more than happy to refund your money and promptly make other care recommendations.
Several Benefits of Regular Chiropractic Care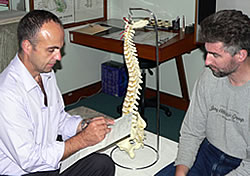 ● Increased energy
● Prevention of health disorders
● Enhances spinal flexibility
● Improved posture, mobility and sleep cycle
When you are in need of the best and most experienced Chiropractic services, we are your ideal choice. We aim at providing the finest chiropractic care possible in the Oakleigh area since 1987 and the surrounding suburbs like Ashwood. In case you are looking for more information regarding chiropractic care, call us at (03) 9579 2699 to schedule your appointment.