Tailbone Pain and Coccyx Dysfunction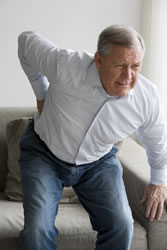 ​Dr Liveriadis provides effective treatment of tailbone pain and coccyx dysfunction for patients in the Oakleigh, East Bentleigh, Mt. Waverley, and Clayton areas. Coccyx pain – medically known as coccydynia – is better known as tailbone pain. This persistent pain originates at the bottom of the spine. It generally feels worse when you sit down or during any activity that increases pressure to the base of the spine.
Understanding Coccyx Anatomy
The coccyx, at the bottom end of the spine, consists of several small vertebrae fused together. There is some limited movement between each of these bones. If the bones move beyond their very limited range of motion, inflammation and coccyx pain can result.
Causes
Tailbone pain is frequently caused during childbirth, making this condition much more common in women than in men. It can also result from trauma such as falling down. However, in other cases there are no obvious reasons for the pain. In some patients, the coccyx joints are unstable, causing a chronic condition in which the joint is sprained or dislocated repeatedly, leading to long-term pain. Coccyx pain may also be radiating from the pelvic joints or the lumbar spine, rather than originating in the coccyx area itself. An x-ray or MRI scan may be useful for determining the underlying cause of the pain, if the cause is not already known. Oakleigh chiropractor Dr Liveriadis will conduct a thorough examination of your medical history for proper diagnosis of tailbone pain.
Symptoms of Coccydynia
When you have coccydynia, it is usually painful to sit down. The local pain in the tailbone region becomes worse when any pressure is placed on the area. The pain tends to worsen when getting up after sitting.
Treatment for Coccyx Pain
Anti-inflammatory medications are usually recommended for coccyx pain. Behavioral modifications include avoiding sitting for prolonged periods or using a specially-designed pillow to take pressure off the area when seated. Chiropractic care offers another way to alleviate pressure on the coccyx to reduce pain. If you are experiencing tailbone pain in Oakleigh, contact Dr Liveriadis at North Road Chiropractic to discuss your treatment options.