Back Pain Treatment
Back Pain Treatment in Oakleigh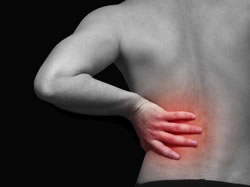 It's estimated that up to 80% of people have suffered from back pain at some point in their lives. For some, back pain is a fleeting problem that resolves itself in a matter of days or weeks. For others, back pain can become a chronic concern, significantly affecting their quality of life and ability to participate in normal work and social activities. A 2004 study of the prevalence back pain in Australia found that 10% of the general population had been significantly disabled by lower back pain in the previous six months.
Chiropractic and Back Pain:
Studies published in medical journals have shown that chiropractic care can effectively ease back pain. In one study, chiropractic was as effective as surgery for the majority of patients with sciatica, and another study found that chiropractic prevented recurring back pain symptoms better than traditional medical treatments. Other research has suggested that chiropractic care produces better back pain relief than anti-inflammatory drugs or lumbar epidural steroid injections.
Although medications can help to dull back pain, they do not address the underlying causes of chronic pain. Chiropractic adjustments can correct dysfunctions in the spine and surrounding tissues causing you pain. Your Oakleigh chiropractor, Dr Sam Liveriadis, will work to identify the source of your back pain, and construct a comprehensive treatment plan catered to your specific needs.
Back Pain Causes: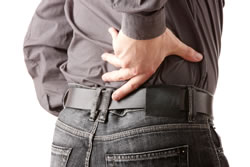 The spine is a complex structure of bones, joints, and discs which is surrounded by ligaments, muscles, and tissues. Damage to any of these structures may initiate the release of inflammatory chemicals, causing back pain and a number of additional symptoms. The spinal nerves can also be impinged (pinched) by inflamed tissues, herniated discs, and bone spurs. Pinched nerves cause pins and needle sensations, numbness, and pain radiating throughout the extremities in the legs and arms.
Finding the root of your back pain is necessary for full relief. As a back pain specialist, Dr Sam can diagnose and treat a range of disorders causing back pain. However, the most common causes of back pain we see in our Oakleigh office include:
Pinched nerves (causing sciatica and pins and needles sensations)
Disc herniation caused by spinal degeneration, bone spurs, bulging discs, or endplate junction failure
Repetitive strain injuries
Overuse injuries
Auto accidents, falls, and other traumatic events
Muscle strains and tears
Poor posture
Lifting injuries due to lifting something heavy, twisting
Pregnancy
Sitting or standing for long periods
Fibromyalgia, scoliosis, multiple sclerosis and other chronic conditions
For effective relief of back pain Oakleigh, East Bentleigh, Clayton, and Mt. Waverley, call North Road Chiropractic today.
References
ACA- What is chiropractic? American Chiropractic Association. http://www.acatoday.org/level2_css.cfm?T1ID=13&T2ID=61. Accessed October 10, 2013.
Balthazard P, et al. Manual therapy followed by specific active exercises versus a placebo followed by specific active exercises on the improvement of functional disability in patients with chronic non specific low back pain: a randomized controlled trial. BMC Musculoskeletal Disorders 2012; 13: 162. doi:10.1186/1471-2474-13-162.
Cifuentes M, Willetts J, Wasiak R. Health maintenance care in work-related low back pain and its association with disability recurrence. Journal of Occupational and Environmental Medicine 2011; 53(4): 396-404.
Low-back pain-acute- National Library of Medicine-PubMedHealth. http://www.ncbi.nlm.nih.gov/pubmedhealth/PMH0004668/. Accessed October 10, 2013.
McMorland G, Suter E, Casha S, du Plessis SJ, Hurlbert RJ. Manipulation or microdiskectomy for sciatica? A prospective randomized clinical study. Journal of Manipulative and Physiological Therapeutics. 2010; 33(8): 576-584.
Peterson, CK, et al. Symptomatic Magnetic Resonance Imaging-confirmed lumbar disk herniation patients: a comparative effectiveness prospective observational study of 2 age- and sex-matched cohorts treated with either high-velocity, low-amplitude spinal manipulative therapy or imaging-guided lumbar nerve root injections. Journal of Manipulative and Physiological Therapeutics 2013; doi: 10.1016/j.jmpt.2013.04.005.
Valfors B. Acute, Subacute and Chronic Low Back Pain: Clinical Symptoms, Absenteeism and Working Environment. Scan J Rehab Med Suppl 1985; 11: 1-98
von Heymann W, Schloemer P, et al. Spinal HVLA-manipulation in acute nonspecific LBP: A double blinded randomized controlled trial in comparison with diclofenac and placebo. Spine 2012; doi:10.1097/BRS.0b013e318275d09c.
Walker BF, et al. Low back pain in Australian adults: prevalence and associated disability. Journal of Manipulative and Physiological Therapeutics 2004: 27(4): 23.