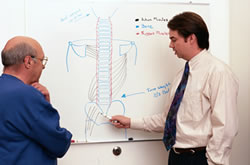 Chiropractic care refers to a safe, non-invasive treatment of your bone related issues, based on continued observation and diagnosis. These treatments can not only take care of your bones and skeletal system, they also ensure that these bone related ailments don't affect your nerves, muscles and other organs.
Apart from the obvious chiropractic benefits, here are some reasons why you should not hesitate to visit a chiropractor near you:
Improved immune system: As you start visiting your chiropractor regularly, you'll see an overall positive result change in your immunity. You'll improve your health, and may find yourself falling sick less often than before.

Better sleep: Another chiropractic benefit that no one told you about is that you are going to get better sleep with continued chiropractic care. Many suffer from poor sleep patterns due to pain or other health related problems. This can be helped with the right care given.

Improved digestion: With better sleep and a healthier lifestyle, your digestion also improves naturally.

Stress relief: With poor nervous system and weak skeletal system, stress sets in. With regular chiropractic care, you can slowly be able to relieve stress too.

Improved posture: With intensive chiropractic care, you will improve your standing, sitting and walking posture. This ensures that you avoid all the bone and nerve related issues related to your wrong postures.

Improved mood: When your health improves, you naturally get happier and more positive about life.

Lower blood pressure: Those who suffered from higher blood pressure have been observed to have a dip in their blood pressure after following the guidelines of their chiropractors.

Better breathing: Most of the times, severe neck pain or other pains can cause a discomfort in breathing too. Once you are in the care of a chiropractor, you don't have to worry about taking deep breaths.

Healthier pregnancy: Pregnant women are prone to back pain. With chiropractic treatment, you can be assured of a healthier pregnancy. This, in turn, helps to ensure a healthy mother and child.
Now you know that there are many more benefits of chiropractic treatment than just getting your back and neck pain resolved. You can fix a lot of other physical and psychological problems with the help of right care and treatment.
Looking For a Chiropractor Near You?
Are you looking for a chiropractor near you? North Road Chiropractic is one of the leading chiropractors in Australia, being established over 30 years ago. We offer treatments that include pain management, auto injuries, work injuries, headaches, tailbone pain & dysfunction, and back pain.
Write To Us
You can book an appointment with us at https://www.backtohealth.com.au/appointments or write to us at https://www.backtohealth.com.au/contact-us so that we can get back to you and discuss your health condition and decide on the best way to get you feeling better, naturally.