6 Benefits of Seeing a Chiropractor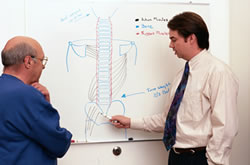 There are millions of Australians who have discovered the benefits of a chiropractor and have been very happy with their results. Others are still holding out, waiting to see if these specialists can help with their chronic pain. Here are just a few benefits you might see when you start going to the chiropractor on a regular basis.
Lowered Allergy Trouble
Those who get their body adjusted correctly will often find relief from both sinus problems as well as allergies. This can help them to breathe easier during allergy seasons.
Relief from Headaches
To get relief from migraines is one of the biggest reasons that people start seeing a chiropractor. If you suffer from chronic headaches you should consider seeing a specialist today. Getting your body back into proper alignment will alleviate pressure and give you freedom from pain.
Relief from Back Pain
Back trouble is often caused by having a body that isn't aligned properly. If you're looking to receive fast, long-term relief seeing a chiropractor is one of the best ways to achieve it. Often, your chiropractor will supply you with a few stretching exercises to further the benefit.
Boost in Immunity
When you visit a chiropractor, you'll find that you see an increase in your immune system in general. One of the reasons for this is that when your body is properly aligned and adjusted it will free up various pathways. This will allow your body to function at a better level overall. In fact, research studies have documented that chiropractic adjustments can increase the production of leukocytes, or cells that support the white body cells in fighting off disease. Other effects of spinal adjustments on immunity include changes in Natural Killer cells, interleukin-2 activity, TNF-a levels, cortisol, and b-endorphin levels.
Increased Mobility
When you are getting adjusted you'll find it's much easier to bend and move. Your joints will often feel years younger as they start to relax back into their intended position. This prevents the stiffness and joint pain that are so common as we age.
Relief without Drugs
Many people who fight chronic pain are left little by way of options. If you're looking to feel better quickly without taking drugs, one of the best things you can do is visit a chiropractor in Oakleigh, Melbourne.
How an Oakleigh Chiropractor Can Help You
Dr Sam Liveriadis is a skilled chiropractor offering natural chiropractic care in Oakleigh, East Bentleigh, Mt. Waverley, and Clayton. Not only can he help to alleviate your chronic pain, he can help you achieve better overall health! Call North Road Chiropractic in Oakleigh to reclaim your health today!
Reference
Neil J. Manipulative therapy and immune response: A literature review of the chiropractic and osteopathic evidence. Clinical Chiropractic 2012; 15(3): 186.